This weather is driving me crazy! One day it's warm, the next it's snowing or the morning is wet & freezing and by afternoon it's warm. I feel like the weather is a bit schizophrenic right now, but I guess that's to be expected with Spring, but I can't stand it! Thank goodness that I bought a trench coat just for unpredictable weather like this.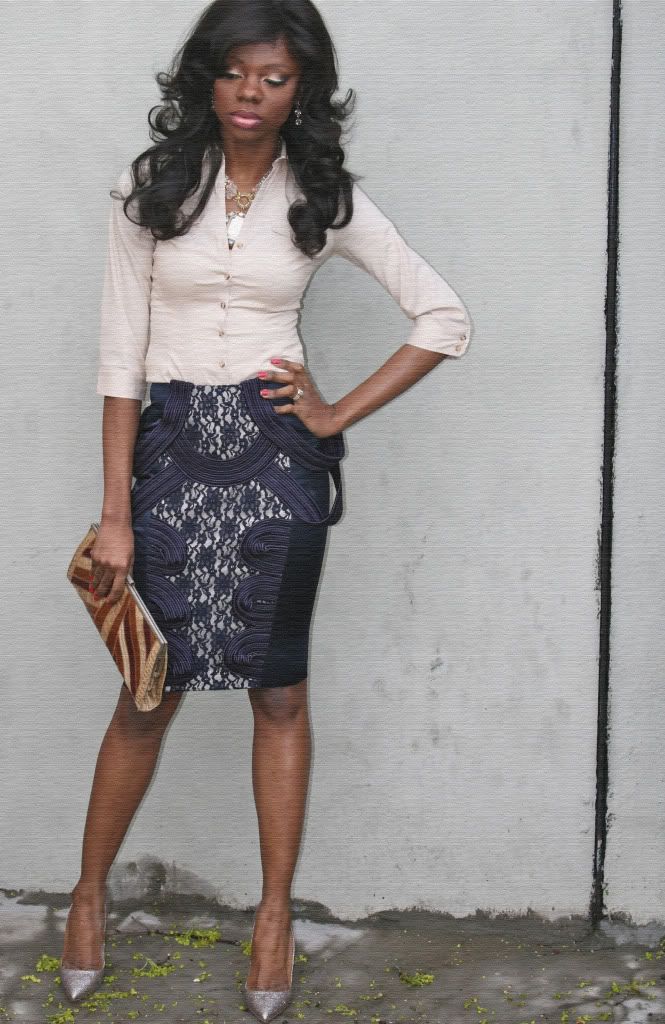 I knew that I was going to wear this skirt today, but wasn't really sure about anything else because of the weather. My church has been having a convention for the past 5 days and today was the grand finale; which we also tag Celebration Sunday (today is also Palm Sunday btw).  I knew that I didn't want to dress casual, but I didn't want to over do it either.
The skirt actually has a matching top with lace sleeves and a silk bodice, but in my opinion worn together it would be perfect for a wedding or a cocktail party. I decided to tone it down just a little bit by pairing it with a more casual button down shirt, thus giving me a good balance between casual and formal (imo).
Don't mind the scars on my legs, they're proof of an active childhood… lol                               
(…he is always trying to get into a photo, I think he believes that it's all about him lol)
I love the lace and French rope details on this skirt. It really gives it an artistic flare
Button Down Shirt- H&M
Trench Coat- ZARA
Clutch- Vintage Crocodile, Shoes- Christian Louboutin
Statement Necklace- TheGlamCloset
Here is a quick OOTD video showing my outfit in action. I know that you may not be able to see every detail, but I hope that you get a good feel for it….
I hope that all of you had a great weekend and will have an even greater week
Hey Gorgeous, don't leave yet... Join me on:
Youtube
,
Facebook
,
Instagram
,
Twitter
for lots more :-)