Ok ladies, so if you have already watched my video, then you know that this look is a total re-creation of the look that I had from my own wedding. I decided on recording a bridal series because I've gotten a lot of requests on various bridal looks. I also remember how obsessed I was with everything bridal when I was planning my own wedding, so I decided that I will do a 3-5 part bridal series, and kick it off with my own look- The Romantic Bride.
I believe that bridal doesn't always have to mean neutral. I've come across just as many brides that prefer some color on their eyes, lips, and/or cheeks as those that prefer a more "traditional" neutral look. In my opinion, bridal makeup just means that you should look like the best you as possible. If you normally wear neutral makeup, then you should lean more towards a neutral palette for your bridal makeup. If you are a diva that loves color, then you should definitely try to incorporate some color in your look. Your wedding isn't really the time to totally transform to another person. You don't want your groom asking, "Who is that?"(lol)
Face: Moisturize & Prime, MAC Select Cover Up Concealer in NW43, MAC Studio Tech in NW45, MAC Studio Finish Concealer in NW45, MAC Studio Stick Foundation in NW50, Black Opal Deluxe Finishing Powder in Medium, MAC Studio Fix Powder in NW45,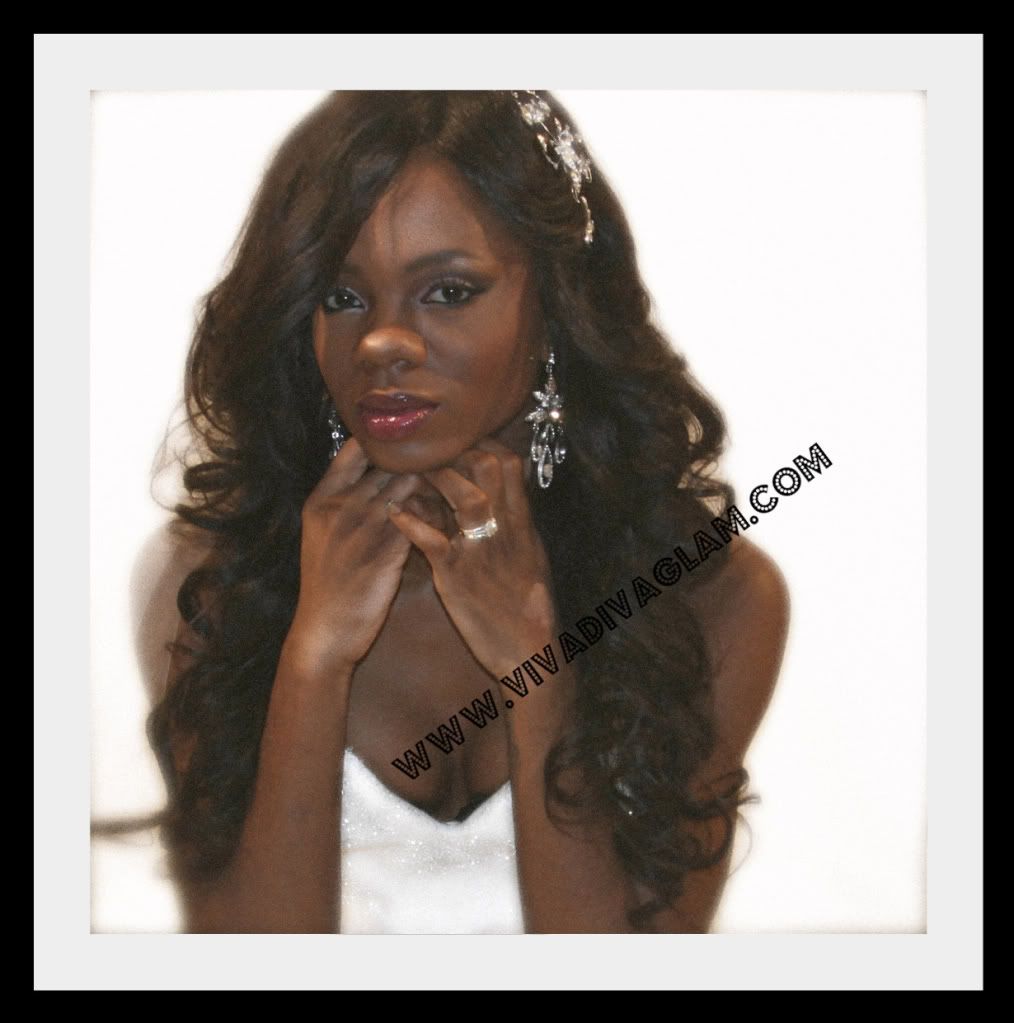 Eyes: Eye Drops, Urban Decay Primer Potion, MAC Fresco Rose Paintpot, MAC Spiked Brow Pencil, Too Faced Eyeshadow in Boy Toy, MAC Embark Eyeshadow, MAC Folie Eyeshadow, MAC Mineralized Skin Finish in Warmed, MAC Smolder Eye Kohl, MAC #7 lashes, MAC Black Track Fluid line, Covergirl Lash Blast Mascara
On women of color, I really love a splash of a pale pink on the eye. It really adds an air of warmth and romance in my opinion.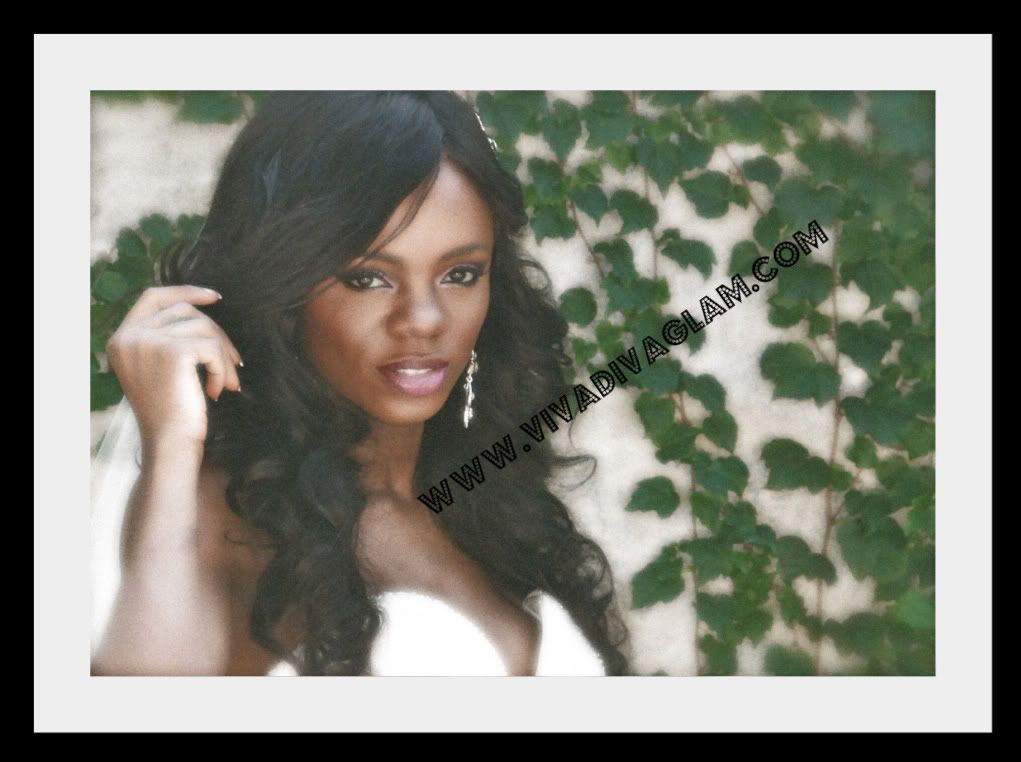 This picture was brightened just to emphasize the importance of contouring & highlighting 
Contour & Highlight
: Contour- MAC Definitive Sculpting Powder, Highlight- MAC Warmlight Shaping Powder, Blush- MAC Bordeaux
Contouring & Highlighting can help you camouflage features that you would like to diminish and spotlight features that you would like emphasized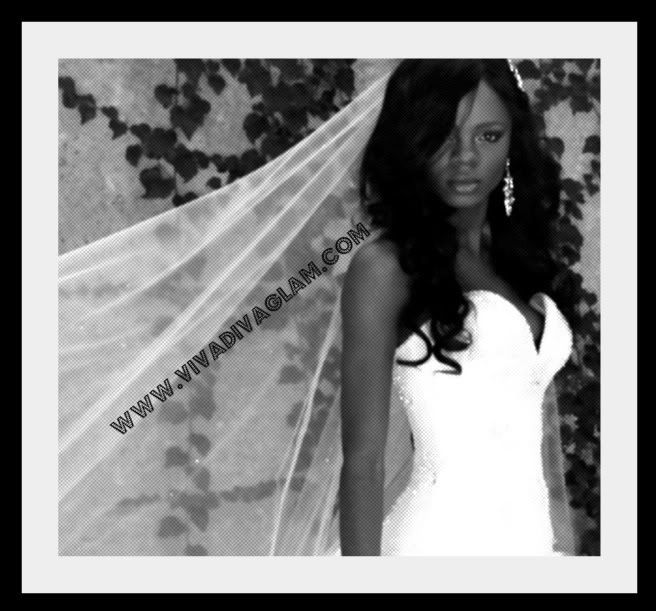 The impact of contouring and highlighting shouldn't be underestimated. Contouring and Highlighting adds dimension to the face. This is especially important when taking photos. As the bride, you will constantly be getting photographed. Without contouring and highlighting, your face may appear a bit rounder and washed out. The affects of contouring and highlighting are even more greatly appreciated in black and white photography because colors are translated into light, dark, and shadows. If you are planning on taking bridal portraits or would like some of your photos converted into black and white, do not skip this very important step.
Lips: Exfoliate & Moisturize (before you begin the makeup process), MAC Currant Lip Pencil, MAC Burning Lipstick, MAC Funtabulous Dazzleglass
Finish with MAC Prep & Prime Finishing Powder. This powder blends the whole look together for the appearance of a flawless application.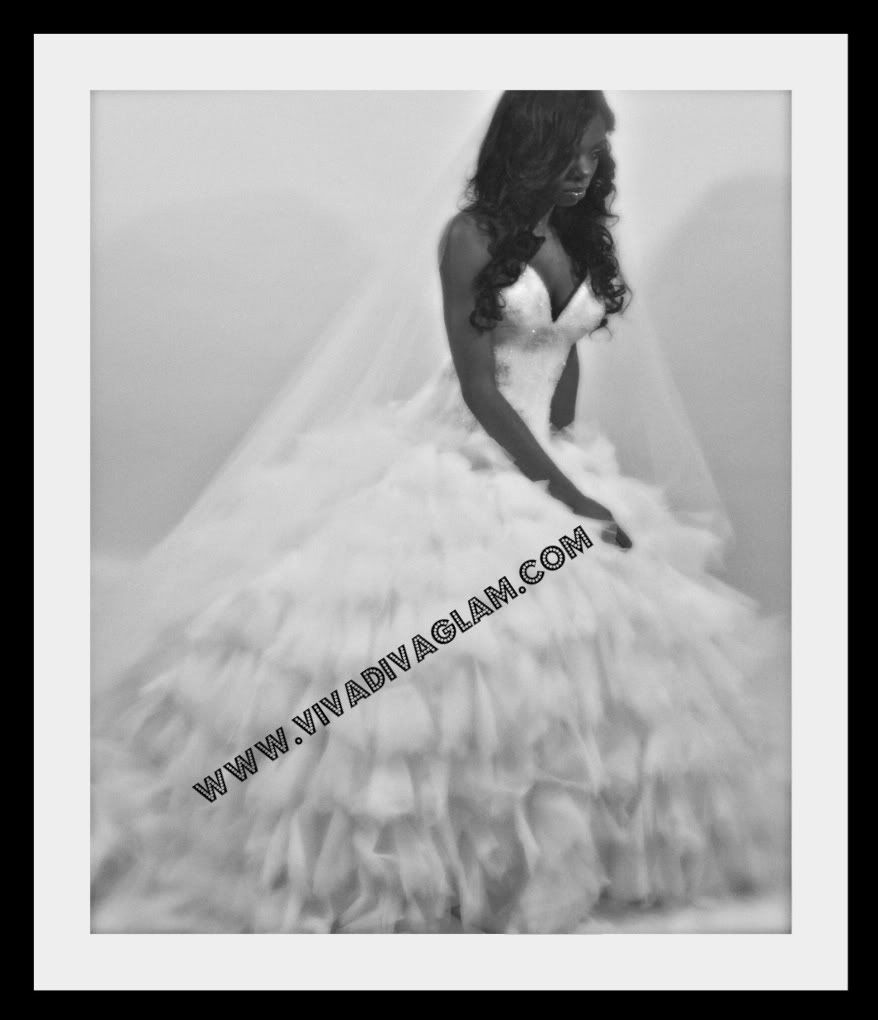 Dress & Veil
: Custom Design
I absolutely loved how my dress turned out. It is a ball-gown style dress with a corseted deep sweet heart top. In my mind, it's a perfect combination of sweet and sexy (lol). The corseted top had boning through out the bodice for support. It was also heavily embellished with crystals and clear bugle beads. The bottom of the dress was made out of satin and 'lots, and 'lots of tulle and organza (lol). Inside, for fullness are layers of crinoline and 2 layers of another material to make sure that the crinoline doesn't come in contact with your skin and cause itchiness. It goes without saying that this dress was a bit heavy (although I just said it (lol).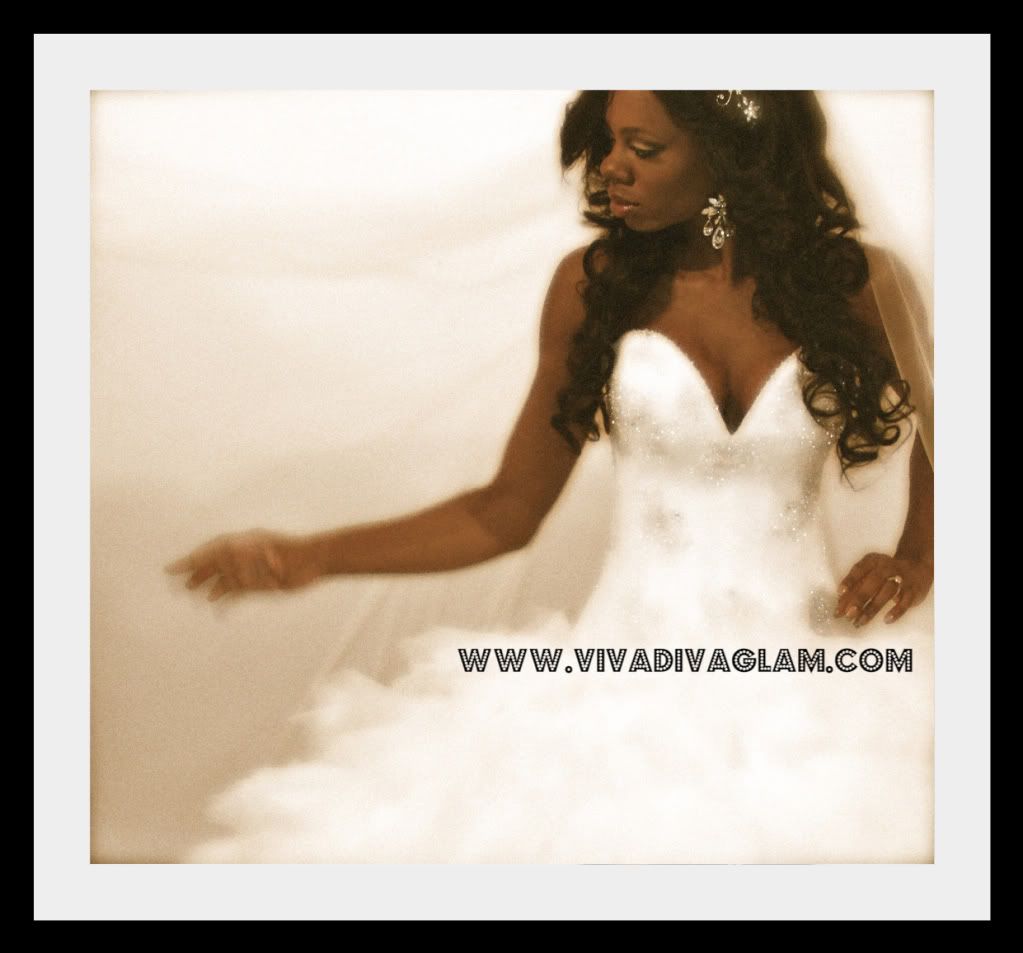 I am completely aware that my dress maybe a bit over the top to some people, but it actually fits my personality to a tee. I wish there were more places to wear a wedding gown besides your own wedding (lol). Some of us spend years dreaming about it, months waiting for it to be ready, spend tons to order it, just to wear it for a few hours. It's totally not fair, but it's completely worth it. The memories, photos, and videos taken for those few hours as a bride are what's going to last you a lifetime.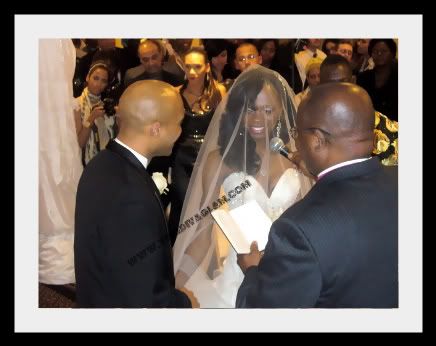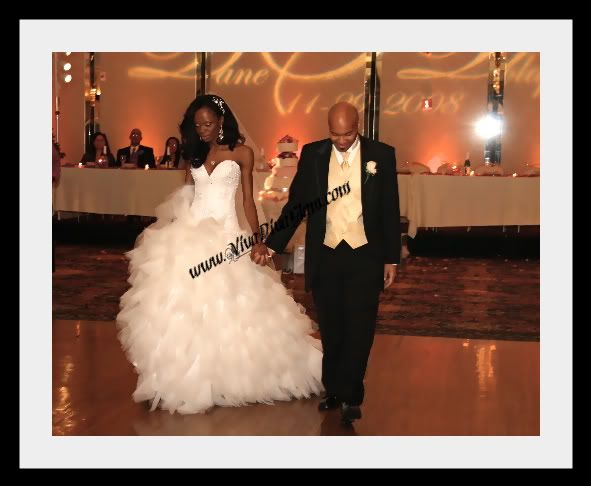 Previous 2 photos are from our actual wedding
My advice to brides to be
- Enjoy every moment of the planning process. Relax, relate, release. You may not get everything that you want and everything may not go as planned, but remember in the grand design of life, your wedding day is just that- a day (although it is one of the most important days of your life).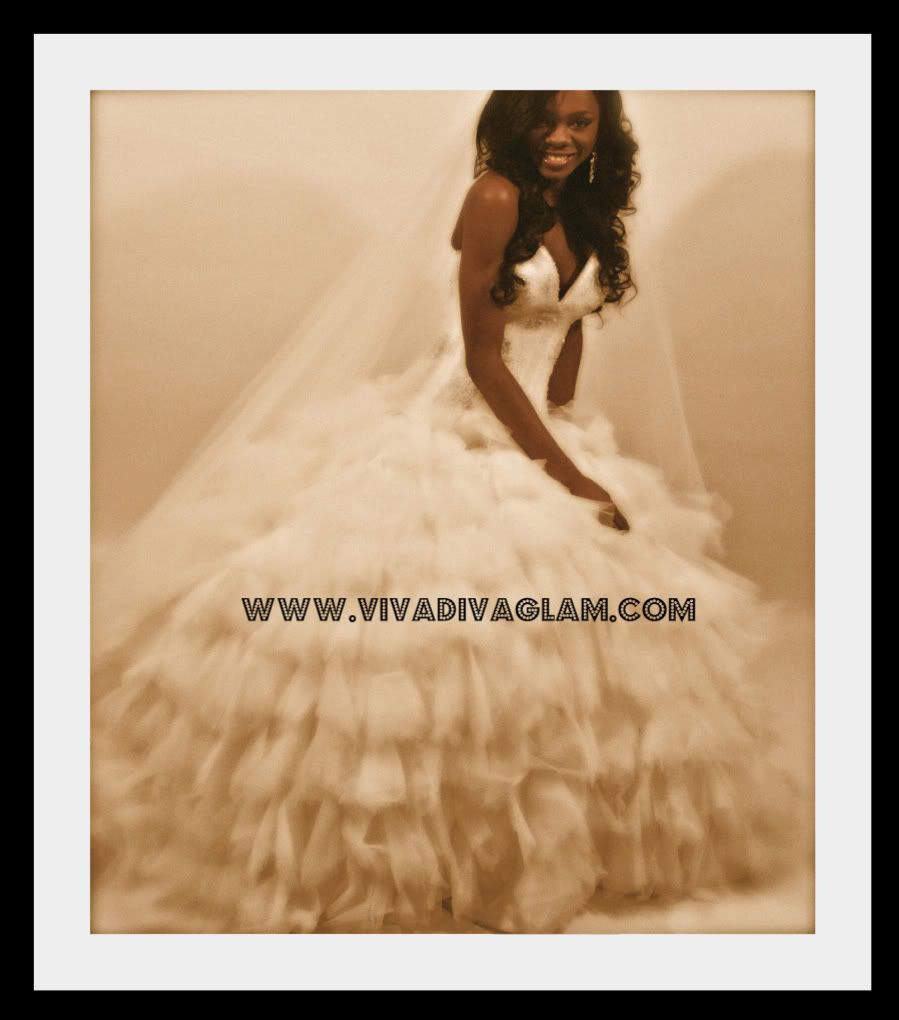 Remember you are a bride for a moment, but you are a wife for a lifetime
Hey Gorgeous, don't leave yet... Join me on:
Youtube
,
Facebook
,
Instagram
,
Twitter
for lots more :-)